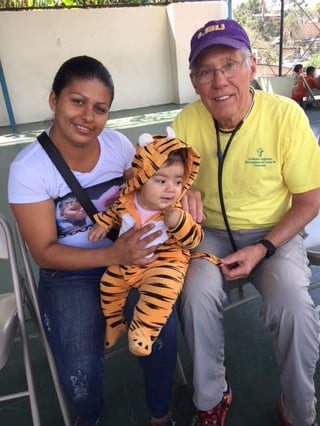 It's easy to spot orthopedic surgeon James Warmbrod, Jr., at Tennessee home games when the Vols are playing LSU. He's the guy in the Tiger cap bobbing in a sea of orange.
When Warmbrod (1961-1964 pre-med) posted a photo on Facebook of his seeing patients at a free clinic in Honduras, the number of "likes" surprised him. In the photo, Warmbrod, seventy-three, is examining a small child whose mother had dressed him in a tiger suit. "People accused me of dressing that child in a Tiger suit," Warmbrod said. "But I didn't. Of course, I was wearing my LSU cap. I always wear my LSU cap down there."
Down there is Tegucigalpa, in one of Honduras' capital's poorest neighborhoods, where Warmbrod and a team of volunteers have seen patients a couple of times a year since 1998. "In the winter, we take about twelve people," said Warmbrod, who lives in Jackson, Tenn. "In June, we take a construction team to build and repair, as well as a medical team."

Warmbrod goes to his office in Tennessee three days a week but no longer does surgery. In Honduras, it's basic medicine, but that's a lot in a country that has adequate medical resources but whose people are too poor to afford treatment, the physician said. "Clinic starts at 9 a.m.," Warmbrod said. "We go until about 4:30 in the afternoon. We might see 200 to 250 people in a day. We give them a bag of Tylenol, and it's like gold to them. They buy by the pill because that's all they can afford."

Word spreads before Warmbrod arrives for his five or six days of clinic.

"I keep my license up to date," the doctor said. "This is primary care, but I take my cortisone with me to inject knees and shoulders. They know I'm coming. There's no such thing as joint replacement for them. Cortisone gives
them relief from pain for three or four months."

The medics take about $5,000 worth of medicine with them. If they paid full price, the medicine would run as much as $75,000. The clinic is supported by the Anglican Church, including Warmbrod's home church of All Saints Anglican Church. The medical team works under the auspices of South Carolina's Suzy McCall and the LAMB Institute (www.lambinstitute.org).
Warmbrod and other physicians see a lot of diabetes in Central America. In Honduras, Warmbrod's patient load is more than half children. "Parasites. Malnourishment. It's not that bad, but we give them parasite medicine and vitamins. There's a lot of upper respiratory tract infection. It's dusty, and the cooking's done over open fires. Lot of acid reflux with the adults."

Warmbrod's nickname at LSU was, of course, "Tennessee." How he got to Baton Rouge in 1961 is one of those Ole War Skule stories.

"My dad (James G. Warmbrod, Sr.) lettered at LSU in baseball and football," Warmbrod said. "I was an LSU fan in the womb. Dad played for Coach Bernie Moore. I listened to the Billy Cannon run in my living room in Jackson, Tenn., with my dad.

Coach Moore had a Tennessee connection and heard about Warmbrod's dad. "Moore coached dad in football. I think the baseball coach was (Harry) Rabenhorst."

When it was time for Warmbrod to go to college, Moore told Warmbrod's father he'd help junior out. "I worked in Broussard Hall and ate at the training table," Warmbrod said. "I washed dishes for two years, and ran the Tiger Recreation Room."
Warmbrod earned his medical degree from the University of Tennessee Health Science Center College of Medicine in 1967. "In those days, you could go three years as an undergraduate and then go to medical school. Some of my friends (in Tennessee) went back to their undergraduate schools to graduate with their classes. I couldn't do that at LSU because I'd left Tennessee. I regret not being able to graduate with my LSU classmates."

Maybe, that's why the doctor is so stubborn about where he wears his LSU ball cap.

"Oh, gah, yeah," Warmbrod drawled, "I wear my LSU cap when LSU plays up here. I'm right there in my reserved seat (in Neyland Stadium in Knoxville) cheering for LSU."
Ed Cullen, an LSU journalism graduate, is author of Letter in a Woodpile, a collection of his essays for National Public Radio's "All Things Considered." He is retired from the Baton Rouge Advocate where he wrote the Sunday column "Attic Salt."