Traveling Tigers are a select group. A proud assemblage. The diehards of diehard Tiger fans. They tailgate under stately oaks by day and roar in Death Valley on Saturday nights. But their fandom does not stop there. They boldly take to enemy territory representing all of LSU Tiger Nation. Their mission: make our boys feel like they're playing a home game.
Along the way, it is LSU Alumni Association's job to take care of the pre-planning. The onsite logistics. The guaranteed good time. So that these Traveling Tigers can stick to what they do best – party like only louisianimals can until kickoff, cheer under the bright lights until their voices are no more, celebrate sweet victory like there's no tomorrow – and then do it all over again at the next game.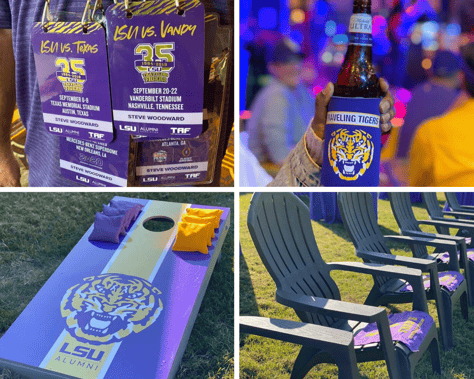 The 2019 season started with a Playstation Fiesta Bowl appearance in Arizona, where the Tigers snapped UCF's 25-game winning streak, the longest in the nation at the time. This was foretelling to the magnificent season that lay ahead - the perfect season earned by arguably the best college football team in the history of the sport. It was historic for the LSU Football Tigers and for the Traveling Tigers program as well.
The Traveling Tigers celebrated it's 35th season of taking it to the road to support the LSU Tigers. Our faithful Traveling Tigers came by bus and charter plane to Austin for the biggest non-conference match up we've had in years. Our first Tiger Nation Tailgate of the season went off without a hitch – over 3,000 people came together at Stubb's BBQ for an outdoor concert by hometown favorite Parish County Line. LSU took down the Longhorns 45-38 and got our first win of the season over a top 10 team.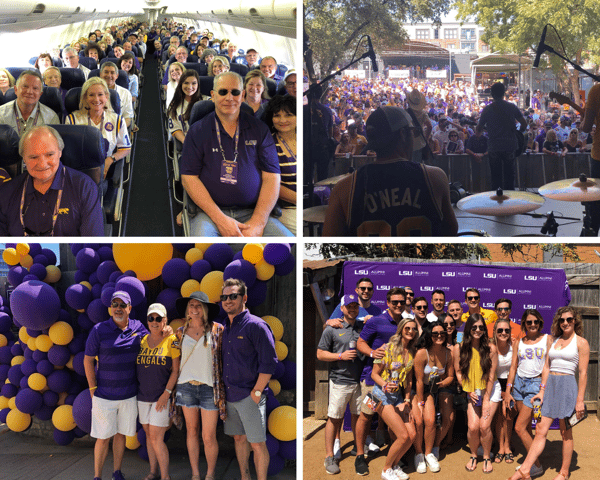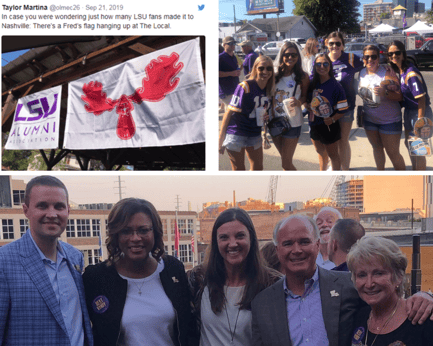 Our second marquee Traveling Tigers trip landed us in Nashville. We held quite a few events in Music City, including a Rooftop Rendezvous at Redneck Riviera hosted by Big D and Bubba with special appearances by several LSU Athletics head coaches. This was followed by our pre-game Tiger Nation Tailgate at The Local, which included an overwhelming number of Tiger fans that made it feel more like Baton Rouge than an away game in Nashville. The day game proved to be a scorcher, but the Tigers dominated the Commodores on the field and came out ahead 66-38.
Next stop: Tuscaloosa. This #1 vs. #2 match-up was being touted as the game of the century. Even the President couldn't miss this one. LSU Traveling Tigers went all out in an effort to prove that we would win at being fans in addition to winning on the field. Our on-campus Tiger Nation Tailgate commenced steps away from Denny Bryant Stadium and included gourmet food and endless tiger tonic. The game was a hard-fought battle but a richly earned victory. At this point, even the naysayers started converting to believers.
Lastly, we went "Greauxving!" We stayed overnight in Memphis to offer our Traveling Tigers an elevated entertainment experience including a Welcome to Memphis party at Tin Roof and then swiftly transferred them to Oxford for game day. For the first time ever, we held Tiger Nation Tailgate in The Grove and gave LSU Tigers a true taste of the Ole Miss Tailgating experience. We then headed into Vaught-Hemingway Stadium, and watched the Tigers beat the Rebels 58-37.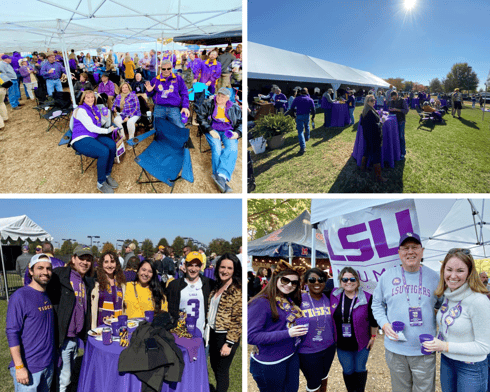 After wrapping up the regular season perfectly, we packed our bags and headed to Atlanta for the SEC Championship game versus Georgia. Tiger fans from across the country joined us at our Tiger Nation Tailgate. We took over a full city block including four restaurants and bars and one expansive rooftop - truly painting the town purple and gold despite the Dawgs having a major location advantage. Come kickoff, we headed into Mercedes-Benz Stadium to watch our LSU football team dominate the Georgia Bulldogs 37-10. Just like that our first College Football Playoff appearance became a reality.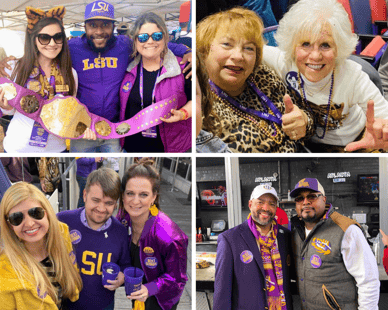 Next stop, College Football Playoffs! Only one more team stood between us and the College Football Playoff National Championship. We headed back to a familiar haunt - Atlanta and the Mercedes Benz Stadium. Our first Tiger National Tailgate was so much fun that we pressed repeat and did it – same time, same place, same ridiculously awesome fans - all over again. LSU put on a truly impressive show against Oklahoma, running away with a 63-28 victory and leaving no doubt that they earned their place in the CFP National Championship game.
One. More. Game. We Comin' for those Clemson Tigers. We departed sweet Baton Rouge on a simple sixty minute drive down I-10 into the Big Easy and began THE weekend that Tigers' dreams are made of . We celebrated and cheered on our team non-stop for several days straight leading up to the sixty minutes on the field. In true New Orleans and Traveling Tigers style we threw a major Tiger Nation Tailgate under a 1,500 person tent at Walk-On's just a couple of blocks from the dome. This exclusive VIP event included the Vintage Rock Club DJ experience, game day gulps and delicious Walk-On's cuisine.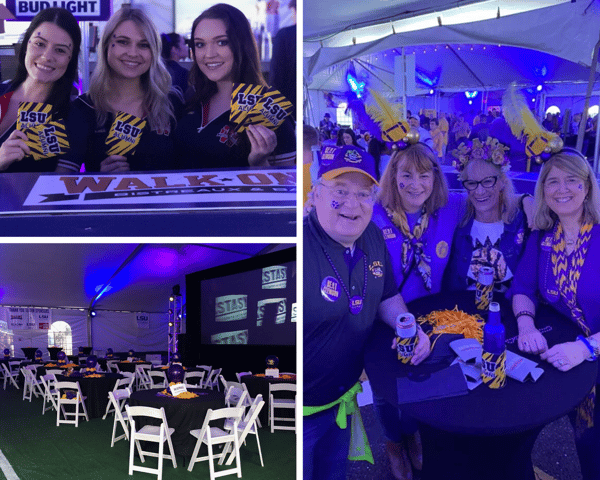 The Superdome was as HYPED as we'd ever seen it. We'd been here before but there was something different about this time. We all felt the infectious energy that overflowed from our team of destiny. Tigers on both sides of the ball and in the stands stood proud as the President and First Lady joined the color guard on the field for the National Anthem sung by honorary LSU alumna and Grammy Award Winner Lauren Daigle. After a battle in the first quarter, our LSU Tigers conquered the next three quarters to beat Clemson 42-25 and become the 2019 National Champions. The Best Ever.
We're grateful to all of the Traveling Tigers who entrusted us with your travel and created so many unforgettable memories with us. It's a genuine camaraderie and the only requirement to join is bleeding purple and gold. So, if you haven't joined us before, we would love to have you in 2020! You can find more info about next season by visiting lsualumni.org/traveling-tigers and you can also sign an interest form to receive info for our trip to The Rose Bowl in 2021.
There are 225 days until LSU Football kicks off again and it can't come soon enough. Geaux Tigers!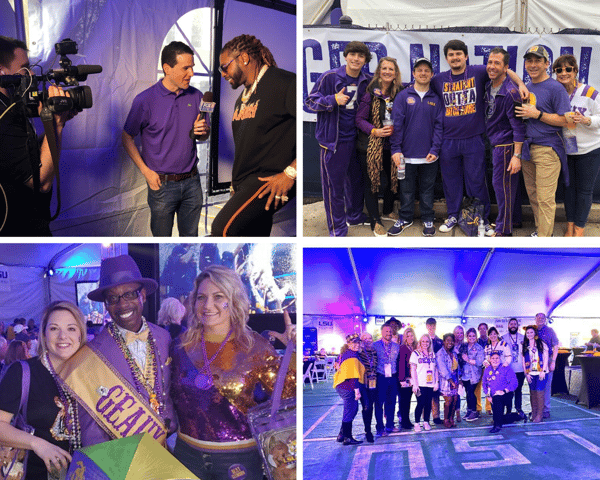 You can view more photos from this season by checking out our Facebook albums here.