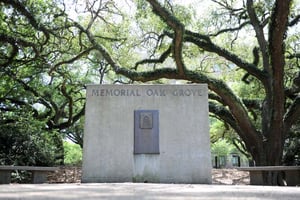 Are you or someone you know a descendant or relative of the men listed below? If so, we would like to hear from you. These men were former LSU students and alumni who made the ultimate sacrifice in World War I and are honored in the Memorial Oak Grove on campus. The grove is being reimagined as a prominent place of remembrance and on Nov. 11, the 100th anniversary of the end of the war, a rededication ceremony will be held. The general public is invited to attend. Details of the ceremony will be forthcoming.
The Memorial Oak Grove was dedicated on March 12, 1926 to honor the thirty LSU men who lost their lives in the war. Thirty-one live oak trees were planted, one for each of the fallen and one for an unknown soldier, as a living reminder of their sacrifice and service to the country. Plans are in the works to improve the landscaping and to provide an educational component to tell the story of those who are memorialized, the grove itself, and the war.
For more information, please contact Gary King at gking@lsu.edu.
| | | |
| --- | --- | --- |
| Name | Years at LSU | Hometown |
| Milton W. Adams | 1916-1917 | Natchitoches |
| Leslie Phillip Backes | 1916-1918 | New Orleans |
| Lawrence Edward Brogan | 1909-1910 | Baton Rouge |
| David Jenkins Ewing, Jr. | LLB 1916 | New Orleans |
| John F. Goodrich | BS 1909 | Highland |
| Ike Hahn Gottlieb | BS 1913 | Baton Rouge |
| James Oliphant Hall | BA 1913 | Calcasieu Parish |
| Henry N. Huck | 1916-1917 | Independence |
| Leslie Carl Hunt | BS 1918 | Tucker |
| John Seymour Joseph | 1912-1913 | Eunice |
| Alan Louis Labbe | 1907-1909 | St. Martinville |
| David Thompson Land, Jr. | BS 1915 | Shreveport |
| Ireanus J. Lietemeyer | 1902-1903 | New Iberia |
| Phillip John McMahon | 1912-1916 | Thibodaux |
| Lewis Hypolite Martin | BA 1911 | Breaux Bridge |
| Alan Loughery Melton | 1916-1917 | Coushatta |
| Wear F. Milling | 1908-1910 | Franklin |
| William Digby Morgan | BS 1907 | Tangipahoa |
| Cecil Anthony Neuhauser | BS 1911 | Slidell |
| Jasper Joseph Neyland | BA 1914 | Washington |
| David J. Ory | | Reserve |
| Walter Asbury Phillips | 1910-1913 | Barbreck |
| Maurice Joseph Picheloup, Jr. | 1909-1910 | New Orleans |
| Thomas James Powell, Jr. | 1901-1903 | Lake Providence |
| Daune Horton Rutledge | 1914-1918 | Robeline |
| Julian Bowles Sanford | BS 1900 | Rapides Parish |
| Stuart Doremus Simonton | BS 1917 | Vernon |
| Charles Nichols Singletary | 1914-1917 | Sugartown |
| Wilburn Edward Scott | BA 1912 | Kingston |
| Henry Ras Thomas | 1917-1918 | Collins, Miss. |
| Charles P. Willis | 1912-1913 | Shreveport |