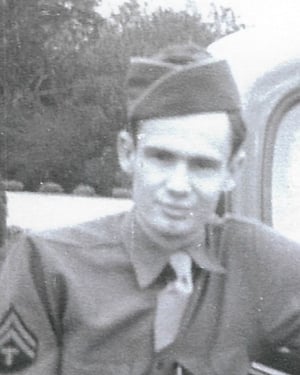 Harding William Bossier was born in Abita Springs, LA, on June 19, 1920, to William W. and Clara Core Bossier. At the age of two he and his family moved to the Istrouma section of Baton Rouge, where he lived until shortly after World War II. He graduated from Istrouma High School in May of 1938 and started classes at LSU the following fall, majoring in Petroleum Engineering. [It was during this first year at LSU that Harding became friends with Alex Box, who sat next to him in a geology class.]
In 1940, after the war had begun in Europe, Harding was declared eligible for the draft and left school to await being called up. From 1940-41, he worked on the construction of Camp Livingston, an army base near Camp (later Fort) Polk, which was being prepared for the United States' potential entry into WWII. From July of 1941 to February of 1942, he was employed at Esso, later moving to Esso Research and Development Laboratories (ERDL).
In March 1942, he was sent to Camp Crowder, Missouri, as part of the Army Signal Corps. He was later posted to various other bases in the US, both learning and teaching radio procedures and receiving overseas training. From 1944 to 1945, as a Sergeant in Signal Corps Battalion 1528, he served in the Pacific Theatre, where he was stationed in New Guinea, the Dutch East Indies, the Philippines, and finally Japan. While in Japan on September 1945, he witnessed the planes carrying the Japanese officials flying over en route to their surrender on the USS Missouri.
Harding was released from the army on November 27, 1945, and returned to Baton Rouge, where he again went to work for Esso. In September 1946, he left that employment to return to LSU, graduating in December 1949 with a degree in Mechanical Engineering. In 1950, he was again employed by Esso, ultimately achieving the position of Associate Engineer at ERDL. He retired from Exxon in December of 1984.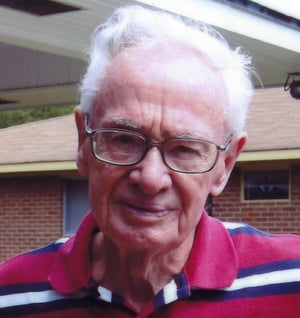 In 1952, he married Thermutis (Mickey) Mick of Huntington, WV, and was the father of four children: Julia Bossier Simmons, William Bossier, Ann Bossier Eggart (LSU '80), and James Bossier (LSU '84). Two sons-in-law and a grandson are also LSU graduates: Robert Simmons (LSUSVM '77) , Greg Eggart (LSU '77), and David Bossier (LSU '18). In 1957, the family moved to Pollard Estates, where Harding lived until moving to Williamsburg Senior Living in 2019. After Mickey's death in 1993, he married Eulema (Jerry) Moore, who passed away in 2015.
An LSU season ticket holder for many years, he remains a devoted, if somewhat cantankerous, Tiger fan and it was a great joy for him to witness this past spectacular season. Bob will celebrate his 100th birthday on June 19th, with his family by his side.