LSU Football
LSU Alumni Spotlight: Jimmy Bernhard and the Battle for the Rag
LSU Alumnus and 1944 LSU football team captain, Jimmy Bernhard, was celebrated as an honorary captain at the recent LSU vs. Texas A&M game.
---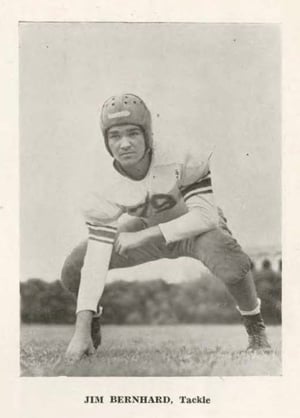 LSU alumnus and 1944 LSU football team captain Jimmy Bernhard was celebrated as an honorary team captain at the LSU vs. Texas A&M football game on November 30 along with several other Tiger greats. Bernhard was a tackle during the '43, '44, and '45 seasons. He has been an instrumental part of the Lafayette and Baton Rouge communities since his LSU days. Bernhard led the team during the height of the LSU vs. Tulane rivalry fondly referred to as The Battle for the Rag. Many Tiger fans are familiar with this tradition but there is a piece of the story you may not know about that involves Jimmy Bernhard.
The winner of the game claimed the Rag and held onto it until the following year's outcome was set. The original Rag was designed by both schools' student body presidents in 1940 to promote sportsmanship. The satin flag was divided diagonally with each university logo on opposite sides and the Louisiana state seal in the center. It is known as the Tiger Rag at LSU and the Victory Flag at Tulane.
LSU was the first team to be awarded the Rag after a 19-0 victory in the 35,000 seat Tulane Stadium in New Orleans. In 1943 Tulane took home the victory and the Rag. The following year, LSU won the battle but the Rag couldn't be produced by Tulane so Bernhard captured Tulane team captain Dub Jones' football pants instead!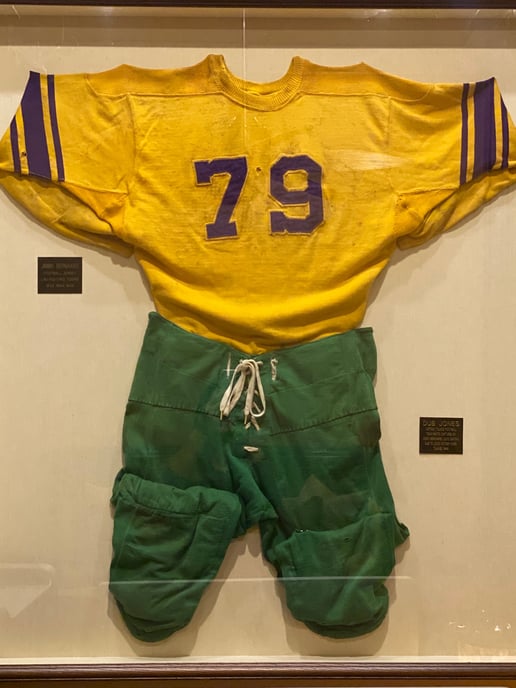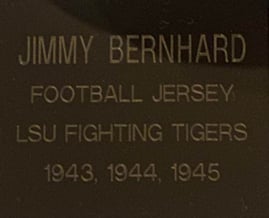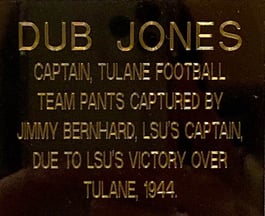 After dominance by LSU for over 40 years, Tulane won the flag in 1982 but did not hold onto it for long. The original Tiger Rag reportedly was destroyed in a fire at the Tulane University Center shortly after the Green Wave won it. A replica of the original flag was constructed using old photos and was introduced at the 2001 match-up in Tiger Stadium. The replica flag currently resides in the Jack & Priscilla Andonie Sports Museum on the Lod Cook Alumni Center property.