News
LSU Alumni Spotlight: Denise Boutté
LSU Alumni Alumni Spotlight Denise Boutte LSU Grad LSU Alumni Association
---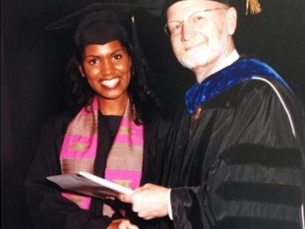 Denise Boutté (1999 BACH MCOM) parlayed talent, hard work, and luck into a career in the movies and television. Oh, and she has a cookbook coming out that taps the roots of her South Louisiana childhood, working title, Cookin' in California with Louisiana Roots.
Boutté, daughter of Betty and the late Nelson Joseph, grew up in a farming community north of Maurice near Lafayette, La. "Lots of soybeans and sugar cane," she said from her home in Los Angeles. "We got our meat from boucheries. My dad was an appliance repairman, and my mother cooked for the Head Start program."
With the help of TOPS and student loans, Boutté, valedictorian at North Vermillion High School, worked as an intern in a Dallas ad agency while earning her degree at LSU. When she graduated from LSU, she had offers from three ad agencies in Dallas. "I was ready to leave (Louisiana)," she said. "I was young and wanted to see what was out there. In hindsight, I have an appreciation for the simplicity of small-town life."
LSU, where she lived in "good old Herget Hall," allowed Boutté to learn in a protective environment, she said. "I never asked 'what if?' It was always, 'Why not me?' It was fearlessness. Going away to school, living on campus, then living off campus, having to pay my own rent."
She met Kevin Boutté, who grew up near New Iberia, La., at a Junior Daughters/Junior Knights Catholic teen talent show in Lafayette. When the couple decided to move to California, Kevin was working in a hospital in Dallas. They'd married in 2003 and now have a five-year-old daughter, Jordan. Because of work obligations, Kevin joined Boutté in Los Angeles six months after she moved to California. "I imported Kevin," Boutté laughed.
Before Kevin joined her in Los Angeles, Boutté lived with her manager, a former actress she met in Dallas. "I lived with her, did the cooking and groceries, fed the dog," she said.
In Dallas, Boutté had a successful career as an ad agency account executive and then manager of an agency before she started appear on the other side of the camera in print and commercial campaigns. The move to Hollywood was a leap of faith rewarded with recurring roles in TV shows that included Boston Legal, Everybody Hates Chris, Days of Our Lives, and Girlfriends.
She was "Trina" in Tyler Perry's Why Did I Get Married? and Sasha Brown in Perry's Meet the Browns on television.
When Boutté added co-producer to her credits in In Full Bloom, she was doing something that had come naturally since her ad agency days. "Tyler was very open to my (input) on Why Did I Get Married?" she said. "As a co-producer (In Full Bloom), I talked to the cast, had input on dialog, characters, locations, camera angles. I'm really good at organizing. Very detailed," she explained.
Upcoming work includes Media, a TV movie that will become a dramatic series; Secrets (acting and producing) with limited release in theaters, then television; and Couples' Night, a romantic comedy that wrapped in Washington, D.C., late last year.
Boutté gets more celebrity recognition in Los Angeles than she does at home. "We go home a lot to see my family. Kevin won't miss Mardi Gras. We go home so often we're not a novelty."