2020 Hall of Distinction: Steve Scalise
Congratulations to one of our 2020 LSU Alumni Hall of Distinction honorees, Steve Scalise.
---
Louisiana State University has a tradition of graduating students who go on to achieve national and international prominence. Since its founding, the University has produced leaders in education, agriculture, the sciences, the arts, government, commerce, industry, technology, sports, the military, and social advocacy.
The LSU Alumni Association Hall of Distinction recognizes alumni who have distinguished themselves and LSU through their careers, their personal and civic accomplishments, their volunteer activities, and their loyalty to their alma mater.
In 1966, the LSU Alumni Association, then the LSU Alumni Federation, conferred its first Alumnus of the Year Award upon military hero Major Roy J. Young. An individual alumnus has been singled out every year since then in honor of his or her distinguished professional and civic accomplishments and continued commitment to LSU. In 1981 the LSU Alumni Association created the Hall of Distinction in order to recognize more than one alumnus each year. The Young Alumnus of the Year Award was established in 1999 to recognize alumni under the age of forty who have attained professional prominence early in their careers.
Congratulations to one of our 2020 LSU Alumni Hall of Distinction honorees, Steve Scalise.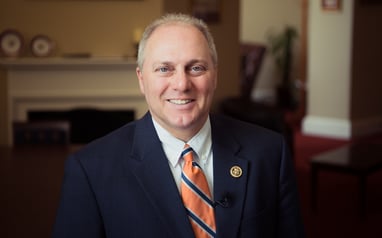 Steve Scalise
Stephen "Steve" Scalise, the Republican Whip in the U.S. House of Representatives and representative for Louisiana's 1st Congressional District, graduated from LSU in 1989 with a bachelor's degree in computer science and a minor in political science. While at LSU he served in Student Government as the twice-elected speaker of the Student Assembly and held various offices in Acadia Fraternity.
Scalise was elected to Congress in 2008 after serving in the Louisiana State Legislature from 1996-2008. A senior member of the House Energy and Commerce Committee and a steadfast defender of Louisiana's coast, Scalise led the effort in the House to pass the RESTORE Act, which was enacted in 2012, and led the effort in Congress to pass legislation that lifted the crude oil export ban. Among his other accomplishments as a member of Congress, he also has successfully worked to increase Louisiana's share of offshore energy revenues and secured funding for critical hurricane protection projects in South Louisiana.
A strong LSU supporter and ambassador, Scalise has worked with LSU officials in his capacity as a member of Congress – from assisting with federal research grants to hosting Tigers during the Sweet 16 in the nation's capital – to bring positive attention to Louisiana's flagship university and promote the programs that make LSU world-renowned. He was commencement speaker at LSU's May 2018 main ceremony and the LSU Law Center's ceremony.
Among Scalise's numerous awards and honors are a U.S. Naval Reserve Letter of Commendation for support service during the Gulf War, the U.S. Capitol Police Medal of Merit, the New Orleans Propeller Club Maritime Person of the Year Award, induction as the Archbishop Rummel High School 2018 Alumnus of the Year, induction into the Louisiana Political Hall of Fame, the Louisiana Right to Life Proudly Pro-Life Award, and the U.S. Chamber Spirit of Enterprise Award.
In professional, community, and civic organizations, Scalise serves on the board of the American Italian Renaissance Foundation and works with the Jefferson Senior Center. He previously served on the board of Teach for America of New Orleans and is a past chair of the Republican Study Committee.
Scalise and his wife, Jennifer, have two children, twelve-year-old Madison and ten-year-old Harrison.
My years at LSU were some of the most rewarding and enriching of my life. LSU gave me the foundation for my professional career in the technology industry and civic involvement as an elected official. Serving in Student Government as the twice-elected speaker of the Student Assembly and as an officer in Acacia Fraternity fueled the passion for public service that I still enjoy today. And, of course, more than anything, the friends I made during my years at LSU are still an integral part of my life. Forever LSU and Geaux Tigers!