LSU Football
Alumni Spotlight: Ofori Agboka
Our Black History Month Alumni Spotlight on LSU alumnus Ofori Agboka, current VP Human Resources, Global Customer Fulfillment at Amazon.
---
Ofori Agboka ('98 Psychology) is one of our Black History Month alumni spotlights, as his incredible accomplishments and drive exemplify how, with an LSU education, anything is possible. He began his career at General Motors and spent just over 20 years working his way up the corporate ladder in the very company he started at when he graduated from LSU. About a year ago, he took a chance and moved across to country to join Amazon as the Vice President Human Resources, Global Customer Fulfillment.

What is your favorite part about working for Amazon?
My favorite part of working for Amazon is the excitement of leading and working with so many innovative people who are creating solutions for customers around the globe. It's an incredibly fast-paced environment, but I'm constantly amazed by the innovation that comes from working with so many talented individuals.
We know you are involved in LSUTigerNation.com and serving as a mentor to other LSU alums. Do you have a mentor that helped you along the way?
I have several mentors whose guidance allowed me get to where I am today. One in particular is John Quattrone. I met him in 2003 when I first spoke up with an interest in taking an international assignment at General Motors. At the time, he was a VP in Human Resources at General Motors, and we connected. We went to lunch and discussed what it takes to be successful in a well rounded HR career.
Over the course of years, he was my boss at times but we were friends. He was an advocate, a sponsor, but always a listening ear, and he always gave me good advice. He would say, "don't let the process overtake the purpose." Which basically meant we make policies and if they aren't working, it's never too late to change it and fix the problem. He was one of those people who could relate to anyone and everyone. From a very young age, he showed me what it meant to be an HR leader. When he retired, he had a great deal of confidence in me which in turn reflected my own confidence in my abilities. To this day, I still consider him a friend and have a profound amount of respect for him.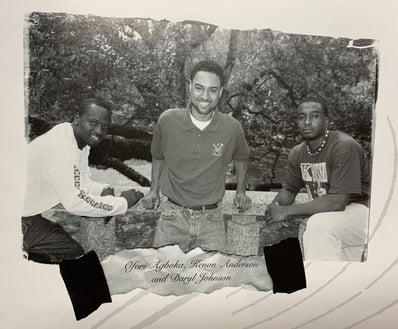 Ofori Agboka, Kenon Anderson, and Daryl Johnson in the 2000 LSU Gumbo Yearbook.
Black History Month was created to give not only respect but also a voice to the Black community. Considering the state of our country, what does Black History Month mean to you?
Black History Month means a lot to me. I'm very proud of the fact that so many people have paused and reflected on the Black experience - where has it been, where is it now, and where should it be. It's encouraging to know the country and the world has stopped to say "something is not quite right here." It's inspiring that so many people have stepped out to say this is important, and we can take the time to acknowledge, celebrate, and move forward while constantly getting better and better.
Every Black History Month I learn something new. More and more over time, Black history will be everyone's history but to take the time to acknowledge culture is very important. I'm old enough now to personally know people who are history makers. I met John Lewis in Washington D.C., and when we met, he wanted to learn about me. In a room with thousands of people, he made me feel it was just the two of us and he left me with words of encouragement and said "Go on and keep doing good my friend."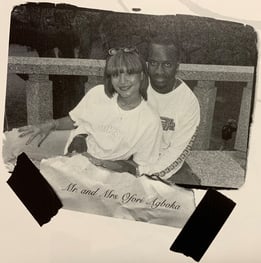 What do you miss most about LSU?
My mother always said to enjoy college because it's the best days of your life. In college, you're so preoccupied with other things. I miss the sunny days in the Quad, being in the locker room with teammates, Saturdays preparing for a game, the Friday afternoons when classes are out, and Homecoming. I miss being free of the burdens and responsibilities that you have as an adult. There was nothing better than being at LSU on a beautiful sunny day, when class was out, and you could simply relax.
Ofori Agboka and his wife, El'Freda, in the 2000 LSU Gumbo Yearbook.