The LSU Class of 2020 has accomplished some incredible things during their time on campus, and we are excited to see them head out into the world and take on their next challenge. With the help of schools across campus along with the LSU Foundation and LSU Division of Strategic Communications, we wanted to feature some amazing graduates and their reflections on their time at LSU.
Our #LSUAlumni Class of 2020 features are on:
Tatiana gonzales-quiroga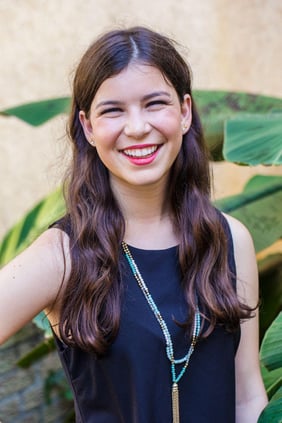 As an international student, Tatiana Gonzales-Quiroga was grateful to join the President's Millenial Scholars Program and meet a group of students she considers her "family away from home." Tatiana has become a well-respected member of the student body and was recently recognized in the Tiger Twelve Class of 2020.
Delton johnson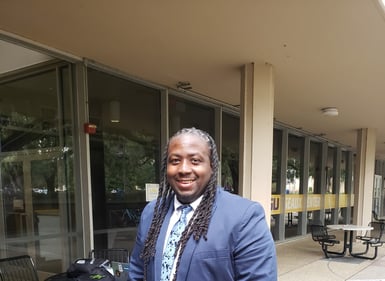 Involvements on (or off) campus: Alpha Kappa Psi, Genesis Mentor, and the Professional Sales Institute
Greatest challenge you've experienced in transferring to LSU: On top of already being a transfer student I'm also a nontraditional student which made it challenging to feel like I belonged at LSU.
Proudest moment/greatest success during your time at LSU: One of my proudest moments would have to be joining Alpha Kappa Psi. This is where I met a lifetime of friends and family.
What is your favorite thing about LSU? My favorite thing about LSU would have to be the camaraderie everyone shows on campus about the school.
Any words of advice for incoming or new transfer students? Don't be afraid to put yourself out there to make new friends and never be afraid to ask questions.
Briasha jones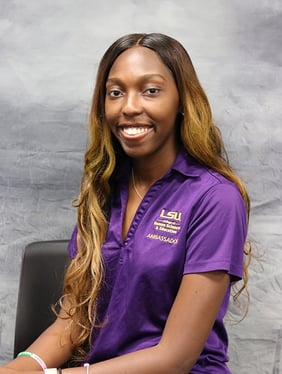 Last November, LSU kinesiology senior Briasha Jones won the 2019 Outstanding Presentation Award at the Annual Biomedical Research Conference for Minority Students (ABRCMS) conference in Anaheim, Calif. As a CHSE Undergraduate Distinguished Scholar, Jones has conducted research under the direction of Associate Dean Arend Van Gemmert and School of Kinesiology Assistant Professor Marc Dalecki to determine whether direction matters during eye-hand decoupled visuomotor tasks with the dominant and non-dominant hand. After she graduates, Jones plans to attend graduate school and later pursue a career in medicine. Read more about Briasha here.
keighley kelley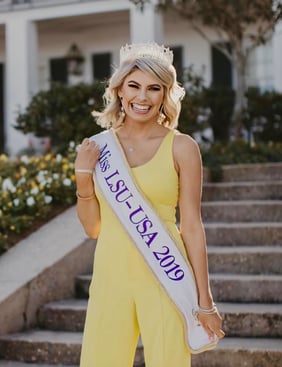 Keighley Kelley, the longest reigning Miss LSU in the pageant's nearly 20-year history, is a child and family studies major with a passion to educate the community about anxiety and depression. After graduation, her goal is to secure a position as a child life specialist. "The LSU College of Human Sciences & Education has provided me with some of the most caring professors who have truly impacted my life," says Kelley. "I am well prepared for life after graduation," Kelley says, "because of the dedication and sacrifice of the faculty members in Child & Family Studies." Read more of her story here.
Madison miller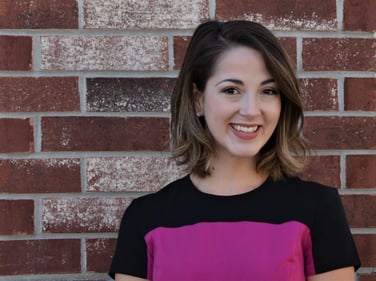 Involvements on (or off) campus: Kappa Delta Epsilon - Honorary Teaching Fraternity
Greatest challenge you've experienced in transferring to LSU: The first few weeks upon transferring to LSU were the most challenging because I felt like a tiny fish in a very big pond! It's a large campus with so many students, so I wasn't sure when I would find my niche. After those first couple of weeks, I found myself creating wonderful friendships that I still have today as I am graduating.
Proudest moment/greatest success during your time at LSU: There have been several moments at LSU where I felt immense pride! Being honored on the President's List was one of those times. Another would be during this time of distance learning. LSU students have so much grit and display such perseverance during hard times, so I am very proud to say I still managed to succeed and graduate even in these unprecedented times!
What is your favorite thing about LSU? I think the sense of community at LSU is like no other. We really are a big family.
Any words of advice for incoming or new transfer students? Your experience at Louisiana State University will be one that you cherish for the rest of your life. Make sure you take the time to slow down, stare up at those beautiful live oaks, and appreciate every moment before you graduate.
emily owens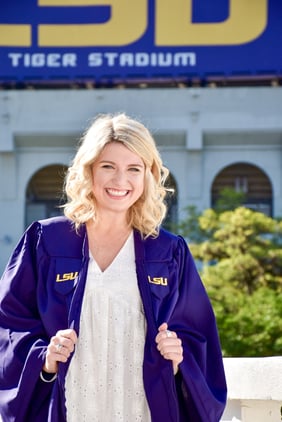 Involvements on (or off) campus: Student Philanthropy Council and Tri Delta Sorority
Greatest challenge you've experienced in transferring to LSU: I was very involved in the university I transferred from and was nervous when coming to LSU especially as a senior that I was not going to find my place or be able to find opportunities to be involved. Thankfully, with the help of some amazing friends and with the numerous organizations LSU has to offer, I found my place and truly enjoyed my last year.
Proudest moment/greatest success during your time at LSU: My proudest moment and greatest success was to be the Director of Communications for the Student Philanthropy Council. From being able to help grow the giving culture at LSU, learning from and being able to work with the Foundation staff, meeting incredible people and working to raise money to benefit students going through hardship, or to keep improving our university was such an incredible experience I was so grateful to be apart of.
What is your favorite thing about LSU? My favorite thing about LSU is how welcoming everyone was and the amount of school spirit and pride the students and alumni have for the university. Being able to affiliate with Tri Delt, I felt like I had known the girls in there since freshman year. The way they included, inspired, and loved me was truly incredible and I am so thankful for them.
Any words of advice for incoming or new transfer students? Don't see transferring as just a different campus to earn for your degree, look at it as an opportunity to make a difference in a new place.
Claire Pham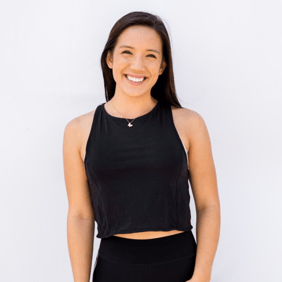 Claire Pham, a kinesiology senior and former fitness instructor at the LSU UREC and TreadBR, became unemployed during the pandemic. Working out was her therapy, so she took to her Instagram account @WeDontSweatIt to share her videos with followers, friends, and fellow students. She also provides some helpful tips on how to stay motivated while stuck inside. Read more on how she was able to adapt and give back here.
caretia washington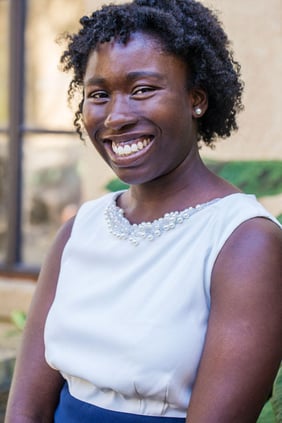 Caretia Washington is a microbiology student who wants to serve underprivileged populations. She appreciates the guidance and stress management tips she received from Brandon Smith, program director for the President's Millenial Scholars Program. Recently, Caretia was accepted to the University of Florida College of Medicine and earned a full-ride scholarship. She hopes to use her work in microbiology to discover new ways to treat and prevent diseases.
ajah williams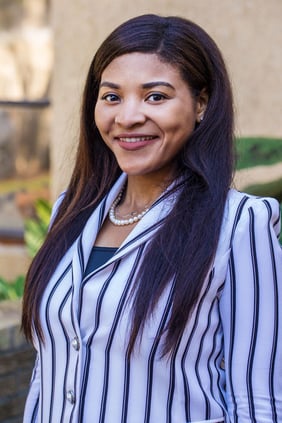 Ajah Williams was raised in a tiny town in rural Louisiana. Now, she hopes to be a role model for younger students there. She believes she has been able to succeed at such a large university because of the mentorship she gained in the President's Millenial Scholars Program. She was accepted to the LSU-Shreveport School of Medicine and has earned a full-ride scholarship.
JOSEPH WILLIAMS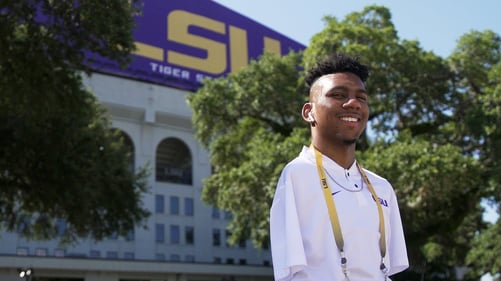 Born without arms, LSU Online graduate student Joseph Williams doesn't let anything stop him and strives to be an example for others. After receiving his BS in sports administration from LSU in 2018, he decided to go back to school to pursue a master's degree in kinesiology through LSU Online. He currently serves as the Operations Manager and Head of Recruitment for Landmark Event Staffing Services as well as oversees all social media. Learn more about Joseph here.