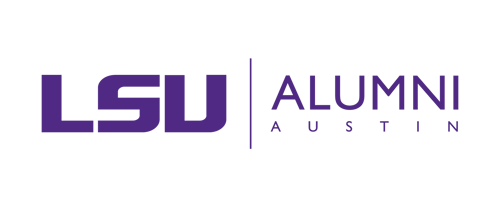 The mission of LSU Austin is to provide a way for local Tigers to connect with each other, and to raise money for our scholarship funds to send local Austin students to LSU! Active since the late 1970's, the chapter has been gumbeaux-ing, crawfish boil-ing, football-ing, and FUNd-raising for over 40 years!
Join us for our annual crawfish boil Saturday, June 4, 2022, at noon at the Shoal Creek Saloon (909 N Lamar Blvd, Austin, TX 78703). Check out our Facebook page for more information!
NATIONWIDE CHAPTER EVENTS
Chapter Scholarship
---
The LSU Alumni Austin Chapter Scholarship is an endowed scholarship generously funded by our alumni, donors, friends, and proceeds raised from our numerous chapter events. Their support of future Tigers and the University makes our mission possible.
The LSU Alumni Austin Chapter Scholarship is awarded through a separate application process. For more information on required qualifications and to learn how to apply, visit the chapter website at the link above.
The Austin Chapter board supports the "party with a purpose" mantra, and many of our events & sponsors support our scholarship funds. Our first scholarship was fully endowed in 2004, and since then, we've awarded over $50,000 in scholarship to over 40 students! As a 501(c)3, you can make a donation to LSU Austin's scholarship fund to help local Austin, Texas students become LSU Tigers! (We especially love corporate matching funds!)

LSU Austin Board members are the team responsible for organizing all of our events and fundraisers. Board members help organize our annual Gumbeaux Dinner, Crawfish Boil, Student Send-Off, SEC Tailgate, Football Watch locations, and other events during the year. Board members are elected at our annual Gumbeaux Dinner held in January/February and serve 1-year terms. If you're looking to get involved with a great bunch of Tigers, email president@lsuaustin.com for more details.
Looking for more ways to connect with the Austin, TX Chapter?
Chapter Contact
President: Kathy Nugent-Arnold
Email: president@lsuaustin.com