Now that we're staying in and cooking more at home, we want to provide you with some recipes for inspiration! Our recipes are all on our LSU Alumni Association Pinterest, and come from the Louisiana 'Tiger Bait' Cookbook. This cookbook includes a wide range of recipes all provided by LSU Alums.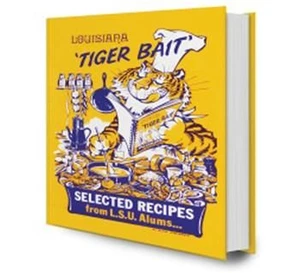 The idea of Tiger Bait Recipes surfaced in 1972, and belongs to Frances and Jay Jalenak. The idea quickly spread, and LSU alumni contributed almost 1,500 recipes for the cookbook to become a reality. All the recipes were tested by professionals in the industry, going through the long but necessary process of cooking and enjoying each and every submission.
The completed cookbook was finally published in the fall of 1976 and is still being sold in the LSU Alumni Gift Shop. You can purchase yours here or pin your favorites from our Pinterest! Make sure to tag us if you post pictures of your finished creole creations so we can share with all of LSU Tiger Nation. Enjoy and Geaux Tigers!