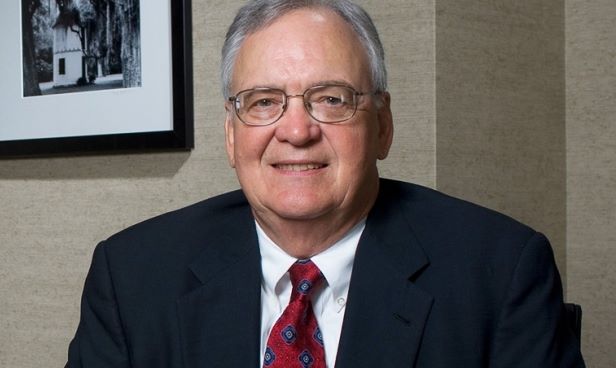 William Shelby McKenzie, former managing partner and "of counsel" with Taylor, Porter, Brooks & Phillips in Baton Rouge, graduated from University High School in 1957 and earned a bachelor's degree in chemical engineering from Princeton University before graduating from LSU Law School in 1964. During law school, he was editor-in-chief of Louisiana Law Review and a member of Order of the Coif, Omicron Delta Kappa, and Phi Kappa Phi. He received the ODK-Mortar Board Outstanding Law School Senior Award, Dean of Academic Affairs Outstanding Law School Senior Student Award, an LSU Alumni Federation Certificate of Merit, and was named Phi Delta Phi Legal Fraternity Martin Inn and Province VI Outstanding Graduate.
Upon graduation, McKenzie joined Taylor Porter and has worked at the firm for more than fifty years, concentrating in insurance law, university law, and litigation. He served as lead counsel for the LSU Board of Supervisor for twenty years, and after retiring from active practice, returned as interim general counsel to the board and to President Emeritus William Jenkins and President F. King Alexander. He was an adjunct LSU law professor for more than thirty years, offering insurance law courses to more than 3,500 law students.
A Fellow of the American College of Trial Lawyers, McKenzie has held leadership positions in numerous professional, educational, and service organizations, among them, the Baton Rouge Bar Association, Louisiana Association of Defense Counsel, LSU Law School Alumni Association and Board of Trustees, Forever LSU Campaign Cabinet, Louisiana Bar Foundation Board, Baton Rouge Area Chamber, Capital Area Legal Services Corporation, First United Methodist Church, Friends of the LSU Libraries, Louisiana Arts and Science Center, Baton Rouge Sheltered Workshop, and Bank One Advisory Board.
For his leadership and contributions to LSU and to his profession, McKenzie was named the Paul M. Hebert Law Center's 2005 Distinguished Alumnus of the Year, the Louisiana Bar Foundation's 2011 Distinguished Louisiana Attorney, and was inducted into the University High School Alumni Hall of Distinction in 2003.
McKenzie and his wife, Molly, an LSU alumna, have two surviving children and five grandchildren. Their son Charles McKenzie and his wife, Elissa, have three sons, McVea, Scot, and Charlie; daughter Leslie Porter and her husband, Lance, an LSU professor, have two daughters, Jan Shelby and Kate. Their son Douglas passed away in 2014.
The LSU Law School provided excellent preparation for my professional career. I was extremely fortunate . . . to work with dedicated LSU board members, administrators, and faculty on many interesting, important, and challenging issues.