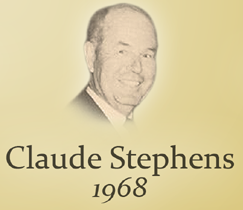 Claude O. Stephens, president of the Texas Gulf Sulphur Company, has been a 'man-on-the-go' ever since graduating from LSU with a degree in petroleum engineering.
Starting as a field engineer with Texas Gulf, he advanced to the managership of the company's Wyoming operations, the top position in the gas department, a vice presidency in 1952, and the presidency in 1957. Long ranked one-two among the world's sulphur producers, Texas Gulf, under Stephens' leadership, also became a giant of the copper mining industry with a rich discovery in Canada. He doubles as chairman and director of Ecstall Mining Ltd., the subsidiary corporation formed to handle these operations. In 1960, his duties were expanded to make him Texas Gulf's chief executive officer, as well as the president.
Stephen's responsibilities don't stop even there. He is director of the Sulphur Institute and the American Potash Institute and an active member of a number of professional organizations, including the American Institute of Mining, Metallurgical and Petroleum Engineers, the American Mining Congress, the American Petroleum Institute, and the Mining and Metallurgical Society of America. He is well known for his public service efforts in and around his adopted city. He is currently on his second year as co-chairman of the New York region of the American Cancer Society, where he was formerly an active board member of the Brooklyn Hospital and chairman of its finance committee.
LSU's top ROTC product and Cadet Colonel as a senior, Mr. Stephens more than fulfilled his military promise with a distinguished record during World War II. He advanced from Second Lieutenant to Major of infantry during four years of action in the Pacific Theater. When the war ended for him in the Japanese Occupation Forces, he was a battalion commander and a Bronze Star Medal winner. Mr. Stephens has been active in the American Society for the Advancement of Science and the Council on Foreign Relations and is now a participating member of the LSU Foundation.
His original home was in Bay City, Texas. During his college years he was a member of Pi Kappa Alpha fraternity, Scabbard and Blade, the Geological and Mining Society, and the Pelican Club.