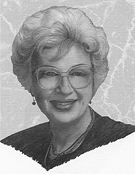 Eilleen Murphy Kean holds two degrees from LSU, a bachelor's degree in arts and sciences and a master's in library science. In college, she received Mortar Board's Outstanding Freshman Award and was chosen as a member of both Alpha Lambda Delta and Mu Sigma Rho. She also served as president of her sorority, Chi Omega. She was tapped a member of Mortar Board her senior year and was a member of both Phi Kappa Phi, a senior scholastic organization, and Women's Senior Court.
Upon graduation, Mrs. Kean worked in the LSU Law Library in 1945-46, where she was an instructor in legal bibliography. She helped organize the Anglo-American Art Museum (now known as the LSU Museum of Art) and served on the museum's board from its inception in 1970 until 1985; she served as president in 1976-77. Mrs. Kean was instrumental in lobbying the University administration and the Louisiana Legislature for capital improvement funds to renovate Hill Memorial Library for Special Collections and to add two floors to Middleton Library.
After helping revive the Friends of the LSU Libraries in 1974, Mrs. Kean and the late Rosalind McKenzie led the Annual Book Bazaar which has grown in sales from $500 back in its first year to over $67,500 in total sales this year. Proceeds of the Bazaar over that 22-year period have reached $861,000. The total endowment has grown over $1 million invested while also allowing $1 million in expenditures by LSU Libraries. In 1986 Mrs. Kean was presented with the Doris Dennis Smith award for meritorious service to the Book Bazaar.
Mrs. Kean has served on the Friends of LSU Libraries Board of Directors three times: 1974-76, 1980-88, and 1995 until the present. She received the Volunteer Activist Award in 1977, the Service Award from Friends of the LSU Libraries in 1985 and the Rosalind McKenzie Award in 1993. LSU presented Mrs. Kean with a Meritorious Service to the University Award in 1993.
In 1992, the R. Gordon Kean Memorial Fund was established by Mrs. Kean and her family, and in 1993, these gifts established the R. Gordon Kean Professorship. Mrs. Kean is a Sustainer on the LSU Foundation's President's Awards for Lifetime Support.
Mrs. Kean has served many organizations in the Baton Rouge community as well, including the Junior League of Baton Rouge, Family Counseling Service, Baton Rouge Symphony Association, Woman's Club, Inc., Baton Rouge Bar Association Auxiliary, United Way, Louisiana Arts and Science Center Guild, Volunteers of America, Our Lady of the Lake Hospital Woman's Auxiliary, YWCO, YWCA, Foundation for Historical Louisiana, and the Speech and Hearing Foundation.
Mrs. Kean was married to the late Richard Gordon Kean, Jr., who graduated from the LSU Law School in 1948. They have six children, five of whom received degrees from LSU.