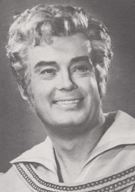 James King, who is not only the greatest male vocal talent ever turned out by the LSU Opera Department, but whom some critics call the greatest heldentenor living today, has been named LSU's Alumnus of the Year for 1979óthe first practitioner of the performing arts to be so honored during the 14-year history of the award.
King was born and raised in Dodge City, Kansas, but now makes his home in the Bavarian capital of Munich. His primary commitment is to the Berlin Opera, which 17 years ago, afforded him his breakthrough opportunity as a professional singer; he is also a regular member of the Vienna State, Munich State, Metropolitan, Royal, Covent Garden, LaScala, and San Franciso companies, as well as the Festivals of Bayreuth and Salzburg.
Best known for his Wagnerian rolesóParsifal, Lohengrin, Dit, Die Walkuereóhe is easily versed in Richard StraussóDie Frau ohne Schatten, Ariadne auf Naxos, Elektra, and Salome. He is also at home in the Italian and French repertoire: Aida, Otello, Manon Lescaut, La Boheme, and Carmen.
During a trip to the Lamont School of Music in Colorado, he met Chrystabelle Kisner, a member of the LSU faculty, who happened to be summering there. She was taken with his voice and counseled him to 'come on down when you graduate from high school.' That was all it took. He moved to Louisiana and finished his undergraduate at LSU before earning a master of music degree at the University of Kansas City. 'I've had cause to be grateful for the language training I had at LSU,' he now says. 'It put me far ahead of other young singers at a comparable stage of development because the greater part of the opera literature is in German, Italian, and French, you know.'
During his undergraduate days, King sang roles in LSU Opera Workshop productions of Faust, La Boheme, and Tales of Hoffman. He also found time to serve as choir director at the University Methodist Church and to take part in the activities of Phi Mu Alpha Sinfonia, the honorary music fraternity.
After failing to win at the American Opera Auditions, King was taken on a European tour and eventually signed up for three performances in Florence, Italy. With these performances and his experience singing in San Francisco opposite of Horne in Carmen and opposite Steber in Ariande auf Naxos, he signed with the Berlin Opera in 1962, thereby forming a connection that has prospered to this day.