The LSU Alumni Magazine is published four times a year, in March, June, September, and December. One hundred thousand copies of the magazine are printed annually for the enjoyment of readers across the country and around the world.
We want your news! Who are you? Where are you? Share the news of your new job or promotion, your wedding, honors, awards, new babies and other milestones with fellow alums. And LSU Alumni Magazine accepts stories, articles and photographs to be considered for publication. Email Jackie Bartkiewicz
You will receive the magazine four times a year with a contribution of $50 or more for an annual subscription, which includes membership in the Association.
2017 Online EditionS
---
Fall 2017 Issue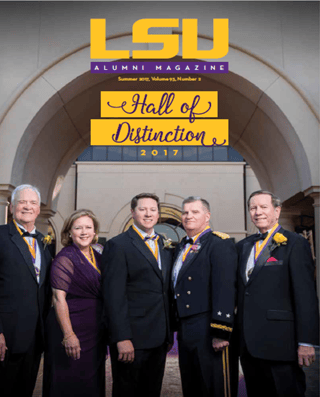 The Summer 2017 issue highlights the 2017 LSU Alumni Association Hall of Distinction. The event was held on Friday, April 7, 2017. The honorees included: Major General Glenn H. Curtis, Brandon Landry, Mary Landrieu, Jake Netterville, W. Shelby McKenzie, and Dr. Charles Smith.
Click Here To View The Online Version >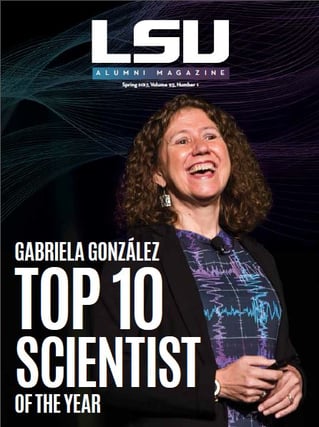 The Spring 2017 issue highlights LSU physicist Gabriela González, who played a central role in a groundbreaking discovery last year –the first-ever detection of gravitational waves, predicted by Albert Einstein's 1915 general theory of relativity.
In LSUAA News, you'll meet the 2016-2017 President's Alumni Scholars and Flagship Scholar recipients and the new members of the Association' s Global Board of Directors. Find out more about – and how to donate to –the LSU Food Pantry and get the latest sports news from coaches Paul Mainieri, D-D Breaux, and Ed Orgerson in Around Campus. And, in Tiger Nation, find out what former classmates are up to, read about "Chef Tailgate" Jay Ducote, Symetra Tour sensation and former Lady Tiger Madelene Sagström, and Father Tom Shuler, who answered the call to priesthood at age sixty-nine.
Click Here To View The Online Version >
2016 Online Editions
---
Winter 2016, Volume 92, Number 4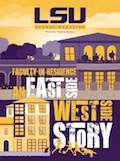 LSU's Faculty-In-Residence (FIR) program lets professors and their families live on campus and interact with students outside the classroom every day of the week. In Building Success: An East Side/West Side story, meet eastsiders Clint and Kay Willson in Laville Hall and westsiders Belinda and Dan Davis– and their three boys – in the Residential College Complex to find out what it's like for families living on campus.
When those in need were at their worst, Tigers were at their best. In true LSU spirit, thousands of alumni and friends volunteered to assist those affected by the summer flood in South Louisiana. Read about Tiers to the rescue – and recovery in FLOOD.

Travel the globe with Tigers Around the World, catch up with old friends in Class Notes, and enjoy Bud Johnson's latest sports news in Sports.
Fall 2016, Volume 92, Number 3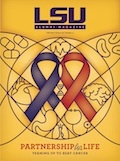 The partnership between LSU and Mary Bird Perkins-Our Lady of the Lake Cancer Center has allowed levels of treatment and research that otherwise would not be possible. Find out how this benefits not only both institutions, their students, and their staffs but also the citizens of Louisiana in Partnership for Life. When Clarke Cadzow isn't running his shop, Highland Coffees, on Chimes Street, he's ferreting out photographs of Tiger Town from the 1930s or interviewing the dwindling number of people who lived, worked, and hung out in the Depression era-residential and business district just north of campus. Cadzow is reassembling Tiger Town, and he wants your help. Get an at-a-glance" overview of the LSU Alumni Association's major accomplishments in the 2015 Annual Report and a preview of the Tigers' 2016 season in Bud Johnson's Locker Room before catching up with old friends, meeting Baby Bengals, and taking a journey to World War II Havana with the Havana American Girls in Tiger Nation.
Summer 2016, Volume 92, Number 2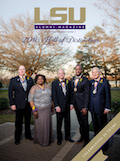 Meet the 2016 LSU Alumni Association Hall of Distinction inductees and find out how "LSU Research Works" to solve some of the state's biggest problems and impacts your life every day. Learn about Alumni Professor Heather McKillop's fascinating Mayan research and share the Tiger gymnasts' excitement about their new practice facility and the team's best season ever. Catch up with campus news and events in "Around Campus" and with old friends and classmates in "Tiger Nation."
Spring 2016, Volume 92, Number 1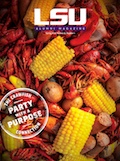 Spring in Louisiana means crawfish boils. And LSU alumni and friends know that leaving Louisiana doesn't necessarily mean leaving crawfish behind. Where Tigers go, crawfish follow - a rite of spring observed by alumni chapters nationwide that host annual crawfish boils. In The Crawfish Connection: Party With a Purpose, see how Tiger Nation unites from coast to coast to celebrate their love for purple and gold, honor their Louisiana-bred craving for the boiled mudbug delicacy, and raise funds for their beloved LSU.
In 1915, a small school opened its doors on the campus of the Teacher's College of Louisiana State University in downtown Baton Rouge. Demonstration High School, as it was then known, began what is now a 100-year legacy of providing a distinctive educational opportunity. University Laboratory School has trained thousands of teachers during the course of the past century, and the depth and breadth of the academics and extracurricular activities offered to students ranks it as one of the best high schools in the country. Read all about it in U-High Celebrates a Century.
In Locker Room, meet the LSU Tigers' new defensive coordinator, Dave Aranda, and get Coach Paul Mainieri's take on the 2016 Tiger baseball team. Find out how two alums are changing the word through music with the Boston Men's Gay Chorus, meet international architect Mauricio Amado, and catch up with Tigers around the world in Tiger Nation.
---
To view older editions, Click Here To View The Archive >