Want To Reach LSU alumni, fans, and friends across the country?
---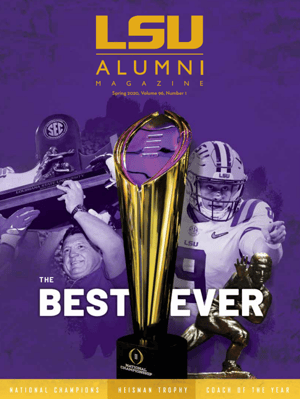 Advertising in LSU Alumni Magazine, you will reach LSU alumni, faculty, staff, supporters, friends, and donors across the country. The LSU Alumni Magazine is published in March, June, September, and December each year.
Our readership is spread out across the country, with 64% of readers living in Louisiana, as well as strong numbers in states across the southeast, California, Ohio and the Washington, D.C. area. Demographic breakdown map available upon request.
The full-color periodical enjoys a long shelf life with its readers, an advantage that provides multiple viewing opportunities and
strong potential for secondary readership, increasing the normal magazine readership to more than 70,000 readers quarterly.
To view past issues of the LSU Alumni Magazine click here.
The Association also produces a monthly E-Newsletter with stories focusing on alumni across the globe, University news, alumni and chapter events, and more. It targets alums in and out of state, LSU seniors and their parents, as well as non-alumni who are true Tigers at heart.
For more information on advertising, contact Emily Johnson, at 225.578.3151 or by email at emilyj@lsualumni.org.